201 Inspirational Stories of the Eucharist
A compilation of stories by Priests, Religious and the people of God.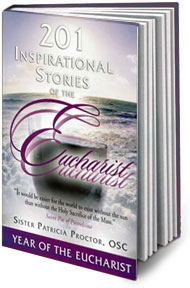 A delightful, heartwarming book... One story compellingly leads into another. Each is so short that reading more is almost addictive. Every one of them is utterly genuine and sincere, many giving extraordinary examples of God's intervention through the Eucharist. It is a book with which everybody can identify. Through the anecdotes of others, I found myself saying, "Hey, that's me!"
Sister Janet Fearns,
Vatican Radio

Only $14.95
1-800-488-0488
Ext. 1 (Monday - Friday)
Click here to order


---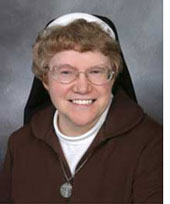 Hi!

Most of us believe that the Eucharist is important in our heads but getting our hearts to believe is another matter.

Over 201 Priests, Religious and Lay people have joined me to share their faith stories about the Eucharist.

Personal stories help us to make that heart to head connection that makes the difference between mouthing our faith and living it.

October 10th begins the holy Year of the Eucharist. All of us need to be filled with a great Love of our God present in the Eucharist. These stories have a purpose - to let you know just how near God is and how much He can help you. Then filled with this knowledge, both in heart and head - you can go out and make a holy difference.

Sr. Patricia
More about Sr. Patricia in the Media Room

---
201 Inspirational Stories of the Eucharist includes:
A Very Special Bonus
52 Pages!

A Novena of Holy Communions
The complete text of this beautiful and inspirational booklet is included in
201 Inspirational Stories of the Eucharist
Father Lawrence Lovasik, DVM.
Tan Publishing
Note: You might want to buy the small booklet from Tan to carry to Mass. I have had one in my pew since I joined the monastery (yes, it's over 20 years!) and I absolutely love it! I was overjoyed to find it was reprinted. My copy is from 1953! For more information
Click Here


201 Inspirational Stories of the Eucharist includes: