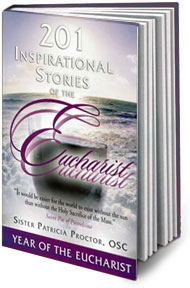 Book Review from the Catholic Times - United Kingdom - July 2004

201 Inspirational Stories of the Eucharist
by Sister Janet Fearns, FDSM-Vatican Radio-
105 Live

The idea was simple enough. Ask people to write a brief account of their personal experience of the importance of the Eucharist in their life. Collect 101 of these stories and publish them as a book. The response was overwhelming. After 201 accounts were received, a halt was called. It seemed as though everybody had something they needed to say about the Eucharist. Everyone wanted to proclaim the impact Jesus in the Blessed Sacrament had had in his or her own life.

'201 Inspirational Stories of the Eucharist' is a collection of personal stories gathered by an amazing American Poor Clare, Sister Patricia Proctor. In fact if anybody could be described as the Publicity Agent of the Gospel, Sr. Patricia fits the bill.

From inside the Poor Clare monastery in Spokane she has set up some universally known websites, all under the umbrella of www.calledbyjoy.com. Thousands of people worldwide use her franciscancards.com for their e-cards. Her daily Peace Card has a mailing list of 15,000. With a Franciscan, all things are possible if it means bringing Jesus and people closer together. So Sr. Patricia is now also in the process of setting up a Catholic radio station, Spokane Catholic Radio, all with the support of her community, some volunteers and the backing of her local bishop.

Sr. Patricia has already written a bestseller, '101 Inspirational Stories of the Rosary' and now, for the Year of the Eucharist, she has a dual strategy. She has already opened a new website, www.yearoftheeucharist.com and is attracting attention before it is even completed.

'201 Inspirational Stories of the Eucharist', is to be published in the beginning of July.

'201 Inspirational Stories of the Eucharist' is a delightful, heartwarming book. One story compellingly leads into another. Each is so short that reading more is almost addictive. Every one of them is utterly genuine and sincere, many giving extraordinary examples of God's intervention through the Eucharist. It is a book with which everybody can identify. Through the anecdotes of others, I found myself saying, "Hey, that's me!"

The book is so easy to read that it is equally appropriate for busy people with little time to spare and also as a bedside book for those who like to read something peaceful and reflective before going to sleep. Its language is simple, direct, memorable, personal and real. It is a genuine catechesis as people who have found faith share their experiences and understanding with the reader. It is a beautiful testimony to the way in which God works quietly and unobtrusively in people's lives, but also shows that sometimes his intervention is like a bolt from the blue.

Every page of '201 Inspirational Stories of the Eucharist' also has a quotation from the recent Church documents on the Eucharist. This allows those who don't have time to read indigestible documents written in 'Vaticanese' to feed on small morsels instead.

'201 Inspirational Stories of the Eucharist' is a very valuable contribution to the Year of the Eucharist because it shows the presence of Christ in his people, but also his people in Christ.

201 Inspirational Stories of the Eucharist includes:
A Very Special Bonus
52 Pages!

A Novena of Holy Communions
The complete text of this beautiful and inspirational booklet is included in
201 Inspirational Stories of the Eucharist
Father Lawrence Lovasik, DVM.
Tan Publishing
Note: You might want to buy the small booklet from Tan to carry to Mass. I have had one in my pew since I joined the monastery (yes, it's over 20 years!) and I absolutely love it! I was overjoyed to find it was reprinted. My copy is from 1953! For more information
Click Here


201 Inspirational Stories of the Eucharist includes: